Fashion has changed towards a point of no return in terms of comfort, previously, wearing leggings to go to places other than the gym was very frowned upon, now we see celebrities wearing them with blazers and we mere mortals, using them to go shopping or go out with friends.
Even in this quarantine, we became fans of comfort, wearing pajamas every day and nightwear to work from home, the clothing sales that increased the most were sportswear, loungerwear, tiedye were a great trend, people They were looking for their comfort despite the circumstances in 2020 and in 2021 those trends continued to boom because nobody wants to go back to the office, we all want to stay comfortable from home.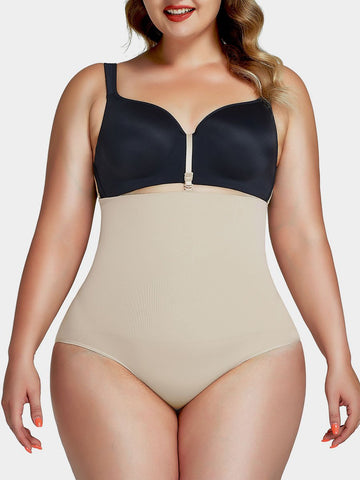 High Rise Brief Panty Flatten Tummy
Updating to the New Norm
Brands had to be updated quickly to give the customer what the woman wants, comfort. As simple as that, we don't have time to wear clothes that don't fit us well, or make us feel uncomfortable, that's why the durafits full body shapewear is here to make you feel like you're on a cloud every time you wear it.
This garment is designed to disappear under the clothes, thus giving you the body that you want to see through the clothes, it is made with one of the softest fabrics on the market, created by them to be the only one on the market with this different design and style. I know you think shapewear garments are uncomfortable and that you have never found one that makes you feel good but believe me, you don't have to keep looking.
Looking good these holidays
One of my favorites for the holidays is the body shaper bodysuit, if you want to wear a pronounced neckline or a dress that shows the legs, this piece is ideal for those occasions, it is specially made so that you can use it without fear of someone noticing it, although if someone sees it, what is the problem? You look beautiful wearing anything.
These garments are a must in my life and in the lives of millions of women around the world, we all have those little tricks up our sleeves that make us feel precious when we go to an elegant place or have a party and we want to stand out with our dress without worrying that something looks out of place or the dress will wrinkle in an area that we want to highlight.
Plus Size Lycra® Shaping Bodysuit
Comfort is key this 2022
Comfort is the second name in these designs, they have managed to perfect the cut and fabric of these garments so that you do not feel any discomfort during the time you are using it, which is perfect if you have a commitment that lasts several hours and you need to see yourself Impeccable at all times, this garment will give you the confidence you need to go out on the street and feel beautiful even if you are wearing leggings and sports shoes and you do not have makeup or accessories on, that is the idea of ​​comfort, feel it even if you are wearing a dress tight silk with heels.
Plus Size Tummy-Control Body Shaper Shorts