Are you a person who keeps up with fashion and fitness? Then, you must be surely aware that shapewear is in the trend now! Highly effective and useful, shapewear is a type of lingerie that helps with toning your body and weight loss. They come in a wide range - waist trainers, thigh trainers, shapewear bodysuits, butt-lifters, etc.... Customers who purchase these shapers have been immensely satisfied with the results.
Below given are some of the top reviewed shapewear.
1.Open Bust Body Shaper With Side Zip

Comfortable and stretchable, this is one of the most reviewed products by the customers. This shapewear is exclusively for exercising compression around the abdominal area. Designed specifically for women who have undergone postpartum surgery, this bodysuit helps in tightening the loosened muscles around your waist.
Salient features include zipper open crotch, Powernet exterior, open bust design, and adjustable straps. The material is ultra-soft and provides a natural butt-lifting effect. Available in various sizes and different colors, this bodysuit is one of the best-selling and most recommended shapers.
2. Plus Size Firm Control Full Body Shaper
Plus-size shapewear are hard to find, and when you find one, there is a chance that they are not the perfect fit. But this plus size shapewear is perfect for all sizes and is very much reliable in shaping up your waist.
This bodysuit supports your thighs, compresses your waist, and also lifts your butt. You can wear this under any dress, as it gives you a wonderful fitting and comfortable stance. As an additional feature, it contains crotch hooks. It also achieves a double tummy control effect, which makes this product even better.
3. Slimming Full Body Shaper Butt Lifter
This bodysuit gives you full-body coverage, resulting in a stunning silhouette.  The shaper is designed in such a way that it will hold on to your curves perfectly and tone them further. The material around the breast part is super elastic, thus allowing you to wear the bodysuit comfortably.
There is one row of hooks, which enables you to adjust as per the fit you want. The crotchless design makes it easier to use the restroom. It makes you elegant and provides a great shape.
4.Removable Straps Shaping Shorts Plus Size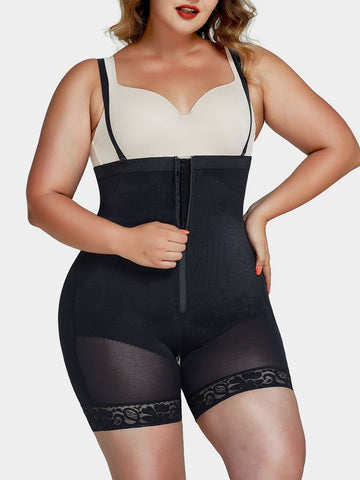 A body shaper that tones you top to bottom, this product helps to compress your tummy and enhance your butt. The underbust design also assists in lifting and improving your bust position. This is one of the most preferred shapewear that comes in plus size.
There are zips and internal hooks that help in keeping the body shaper in place. The shapewear is designed in a way to reach mid-thigh and give you comfort. The material is lightweight, the straps adjustable, and the seams do not leave any marks on your skin.
Conclusion:
These are only a few of the top-rated shapewear that this range provides. Comfy and adjustable, these are designed to shape up your body and boost your confidence. These can be easily worn under any garment, thus can be even worn all day long without a hitch. Make sure to grab your shapers soon before they run out of stock!