Belly fat is the most predominant body concern in both men and women. Unflattering waist area often doesn't allow us to wear our favorite outfits with confidence. A bulging tummy can shatter one's confidence in seconds. Whether you are a teenager struggling with belly fat or a young mother with postpartum fat, finding the solution is often difficult.
Shapewear is one of the most purchased undergarments across the globe for these reasons. Whether you are battling against love handles, tummy bulge, or any other unflattering body concern, body shapers have got you covered. A bodysuit shaper from DuraFit can be your knight in shining armor and rescue you from stubborn belly fat issues.
High Waist Shapewear for Tummy Control
This shapewear is designed to control your tummy fat and redefine your waist area. This body shaper comes with a silicone strip that offers an anti-slip facility and allows the shapewear to stay in place.
With this shapewear, you will have the security to sit or move around freely. The upper half will stay attached to your bra and prevent it from rolling down. These body shapers balance comfort, compression, and control to hide your tummy bulge seamlessly.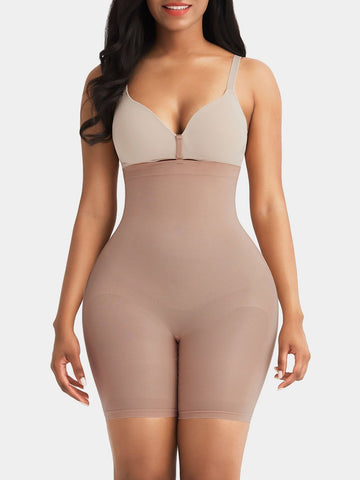 Smooth Control Shaping Booty Sculptor
Invisible Bodysuit Shaper for that 'Snatched Look'